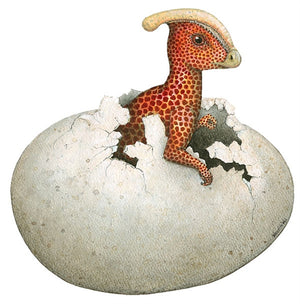 Dinosaur Wall Decals
---
We've got T-rex, of course - but we've got all kinds of unique and unusual dinosaur wall stickers as well. Can you believe it?!
These incredibly realistic dinosaur wall stickers for kids rooms are special because they are based on extensive research by Dede before she paints each and every one. We consider these decals to be dinosaur wall art. (No cartoon dinosaurs here!)

These days, kids of all ages are intrigued by dinosaurs, especially given the current popularity of the Jurassic World movie franchise. If your son or daughter is a dinosaur fan (or fanatic), you can make a wonderful dinosaur wall mural in their bedroom or playroom using our dinosaur wall decals. In addition to the common dinosaurs that most of us are familiar with (e.g., Tyrannosaurus Rex, Pterodactyl, and Triceratops), we also have dinosaur wall stickers of unique species such as Quetzalcoatl, Stegosaurus and Euoplocephalus. Not to mention a wall decal of a baby dinosaur hatching out of an egg. How cool is that?

Get our free Mural Planning Guide and start planning a wall mural today!
SIZE GUIDELINES
We have three size options of the dinosaurs and scenery packs. Not all the designs come in all sizes because the largest size depends on the size of Dede's original painting.
Fun Size - smallest size, items average around 1-2 feet wide and tall
Wow Size - medium size, items average around 2-4 feet wide and tall
Life Size - largest size, items average 4-7 feet wide and tall
---